Useful Resources
This is a non-exhaustive list of resources separate from our Member Distress Centres that may be helpful to anyone seeking mental health supports. These programs may be run federally, provincially, or locally and while some fall under multiple categories, we have placed them under the most relevant heading. For resources related to the Clyde Mental Health and Addictions Awareness Project, scroll to the bottom of the page.
General Databases and Supports
Ontario 211
https://211ontario.ca/ or dial 211
Ontario 211 is a free helpline that connects you to community and social services in your area 24 hours a day, 365 days a year, in over 150 languages.
Connex Ontario
https://www.connexontario.ca/
Connex Ontario provides free & confidential health services information for people experiencing problems with alcohol & drugs, mental illness or gambling.
eMentalHealth.ca
https://www.ementalhealth.ca/
Mental health services, help and support in your community.
Boots on the Ground
https://bootsontheground.ca/
Anonymous peer support for First Responders, by First Responders. It's an anonymous Ontario-based helpline where First Responders can talk to someone who's been through it. We're not therapists. We're here to listen. No call display. No judgment.
Good2Talk
https://good2talk.ca/
Good2Talk provides confidential support services for post-secondary students in Ontario and Nova Scotia.
BullyingCanada
https://www.bullyingcanada.ca/
BullyingCanada is Canada's only national organization that resolves bullying situations by directly facilitating communication between bullied kids, their tormentors, parents, teachers, school boards, social services, and police.
Kids Help Phone
https://kidshelpphone.ca/
Kids Help Phone is Canada's only 24/7, national support service. We offer professional counselling, information and referrals and volunteer-led, text-based support to young people in both English and French.
National Eating Disorder Information Centre (NEDIC)
https://nedic.ca/
NEDIC provides information, resources, referrals and support to Canadians affected by eating disorders.
Ontario Caregiver Organization
https://ontariocaregiver.ca/
The Ontario Caregiver Organization (OCO) exists to support Ontario's 3.3 million caregivers; ordinary people who provide physical and emotional support to a family member, partner, friend or neighbour.
Settlement.org
https://settlement.org/
If you are new to Ontario, you can find answers to common questions about your new home on Settlement.Org.
Addictions and Substance Abuse
The Centre for Addiction and Mental Health – Province wide
http://www.camh.ca/
The Centre for Addiction and Mental Health (CAMH) is Canada's largest mental health teaching hospital and one of the world's leading research centres in its field.
Ontario Addiction Treatment Centres – Province wide
www.oatc.ca
Offering over 50 centres to serve you. Serving all of Ontario with the country's largest network of methadone clinics.
Rapid Access Addiction Medicine Clinics – Province wide
https://www.metaphi.ca/raam-clinics/
A rapid access addiction medicine (RAAM) clinic is a low-barrier, walk-in clinic that patients can attend to get help for a substance use disorder without an appointment or formal referral. RAAM clinics provide time-limited medical addiction care (including pharmacotherapy, brief counselling, and referrals to community services).
Drug Rehab Services – Province wide
https://www.drugrehab.ca/ontario.html
Drug Rehab Services is a free resource for drug and alcohol addiction in Canada. We have helped and refer thousands of people to get help with their addiction. Our goal is for you to get the best advice possible so that you or a loved one can live a fulfilled life free from drugs and alcohol.
Canadian Centre on Substance Use and Addiction – National organization
https://www.ccsa.ca/
An Act of Parliament created the Canadian Centre on Substance Use and Addiction (CCSA) in 1988 as a non-governmental organization to provide national leadership on substance use and to advance solutions to address alcohol- and other drug-related harms.
Ray of Hope – Region of Waterloo
https://www.rayofhope.net/
Addiction wreaks havoc on bodies and minds, tears families apart, and derails young people's futures. Ray of Hope is committed to helping youth struggling with addiction to learn healthy alternatives and coping strategies so that they and their families can reclaim a healthy, productive life free from addiction.
Anxiety, Depression, and Mood Disorders
Theravive
https://www.theravive.com/
Theravive is a network of licensed therapists and psychologists committed to helping people receive the best mental health care available.  Through building bridges with others, we continually strive to lower mental health stigma.
BounceBack Ontario – Province wide
https://bouncebackontario.ca/
A free skill-building program managed by the Canadian Mental Health Association (CMHA). It is designed to help adults and youth 15+ manage low mood, mild to moderate depression and anxiety, stress or worry. Delivered over the phone with a coach and through online videos, you will get access to tools that will support you on your path to mental wellness.
Mind Beacon – Province wide
https://www.mindbeacon.com/
MindBeacon's Therapist Guided Program is based in Cognitive Behavioural Therapy (CBT). It's a skills-building approach to therapy, helping you develop resiliency and coping skills to better manage your mental health concerns. It consists of readings, exercises and activities that will help you learn and practice those new skills. 
AbilitiCBT – Province wide
https://ontario.abiliticbt.com/home
AbilitiCBT is a practical, short-term program delivered online. It helps people develop skills and strategies to address symptoms of mild to moderate anxiety and/or depression.
Valery Brosseau, Mental Health Speaker and Advocate – Durham Region and province wide
https://www.valerybrosseau.com/
The mental health field [is] my passion. I aim to use my platform to connect with people on a genuine level and educate them on mental illness. I combine my educational background and the training I have received with my lived experience to provide a unique approach that focuses less on the clinical and more on the human aspect of mental health. 
Supports for Persons of Colour and Marginalized Communities

Black Youth Helpline – National program
https://blackyouth.ca/
National helpline for black youth and their families.

Hope for Wellness Help Line – National program
1-855-242-3310
https://www.sac-isc.gc.ca/
Offers immediate mental health counselling and crisis intervention to all Indigenous peoples across Canada. Phone and chat counselling is available in English, French, Cree, Ojibway and Inuktitut.
Muslim Association of Canada – National association
https://www.macnet.ca/
The Muslim Association of Canada (MAC) is a Canadian charitable organization and a grassroots social movement. MAC focuses on serving Canadians by educating and motivating Muslims in Canada to put their faith into action for the benefit of everyone.
ACCKWA – KW area
https://www.acckwa.com/african-and-caribbean/
The African and Caribbean Community Development program offers culturally and linguistically appropriate support, education, and outreach services to African and Caribbean newcomers and communities.
Coalition of Muslim Women KW – Kitchener/Waterloo
https://cmw-kw.org/
Founded by a handful of Muslim women in 2010, Coalition of Muslim Women of KW (CMW) is a federally registered not for profit organization with the mandate to empower Muslim women and girls to be leaders and change makers. CMW provides opportunities for personal and professional growth, and leadership and skills development for Muslim women while addressing issues of racism, discrimination and Islamophobia through advocacy, activism, and bridge building. CMW facilitates Muslim women's active participation and engagement in civic and democratic life, tirelessly working towards building a society where Muslim women are valued, engaged, empowered and recognized as leaders.
Across Boundaries – Toronto area
https://www.acrossboundaries.ca/
Across Boundaries provides a dynamic range of dignified, inclusive and compassionate mental health and addiction services  and programs for racialized communities.

Black Creek Community Health Centre – Toronto area
https://www.bcchc.com
A non-profit community-based organization that provides health care services and programs geared to vulnerable populations living in Toronto's North West communities.
South Asian Canadians Health & Social Services Distress Helpline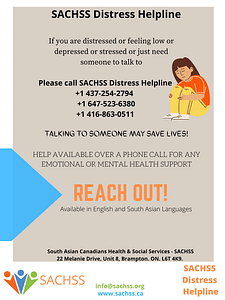 Grief and Loss
Canadian Mental Health Association Document – Province wide
https://ontario.cmha.ca/documents/
Learn about loss and grief and how to help children and youth cope.
Canadian Virtual Hospice – Province wide
https://www.virtualhospice.ca/
A compilation of grief services offered all over the province.
Baycrest – Toronto area
https://www.baycrest.org/
Distinguishing between grief and depression is complicated. The experience of grief is similar to the experience of depression in that many people go through periods of intense sadness, notice changes in appetite or have trouble sleeping in the aftermath of a loss, but there is a difference between grief and depression.
FamiliesFirst – Windsor area
https://www.familiesfirst.ca/grief-and-guidance
It can be difficult to know what to say or do to ease the pain of someone who is grieving the death of a loved one. You may be fearful of saying the wrong thing, intruding, or adding to their pain. You cannot take away their pain, nor should you, but you can do many things to offer comfort and support. Do not let your sense of helplessness prevent you from reaching out to them.
Alliance of Hope for suicide loss survivors – World wide
https://allianceofhope.org/
The Alliance of Hope was created by survivors, for survivors. Our website contains information to help survivors understand the complex emotional aftermath of suicide. It also features a blog, bookstore, and memorials. Our community forum operates like a 24/7 support group. It hosts more than 20,000 members from around the world, and 500,000 posts describing the survivor experience. It is overseen by a mental health counselor and trained team of survivor moderators who provide information and hope.
Housing and Food Insecurity

Feed Ontario – Province wide
https://feedontario.ca/
From securing fresh and healthy food sources, to driving change through policy research and innovative programming, Feed Ontario unites food banks, industry partners, and local communities in our work to end hunger and poverty.
Shelter Safe – Province wide
https://sheltersafe.ca/ontario/
If you are a woman experiencing abuse, there is someone you can reach out to any time of day or night.
Canadian Centre for Men and Families – National organisation, shelter to open in Toronto
https://menandfamilies.org/familyshelter/
We offer a safe, spacious, temporary living opportunity for single men as well as fathers with children. This unique facility is dedicated to men and families who have experienced any form of domestic abuse.
KW Community Fridge – Kitchener/Waterloo area
https://www.facebook.com/CommunityFridgeKW/
We are a community fridge consisting of fresh, donated foods that anyone can take from for free. Designed to facilitate access to food and reduce food waste, Community Fridge KW is the first of its kind in this Region.
Lutherwood – Waterloo Region and Wellington County
https://www.lutherwood.ca/
Lutherwood's housing services support you in your search to find permanent, safe and affordable housing. Whether you are a senior, a youth, new to Canada, part of a large family or a person who has never had a place to call home, we have a range of services to help you find and maintain housing including loans for rental deposits and arrears, service resolution, public education, training and information on housing.
Thresholds Homes and Supports – Waterloo Region and Wellington County
https://www.thresholdssupports.ca/
At Thresholds Homes and Supports, we believe that a stable, permanent home is the first step towards mental wellness. We offer a range of mental health services, including ACTT, FACT, supportive housing, crisis respite, case management, and more.  We assist individuals in the communities of Kitchener-Waterloo, Cambridge, and Guelph-Wellington.
Shelter Movers – Various Areas
https://www.sheltermovers.com/
Shelter Movers collaborates with local businesses and community services (e.g. shelters, police, schools, services) who refer clients that have decided to leave an abuser, and have a safer place to go. Shelter Movers makes all the arrangements to move and store survivors' belongings securely, on the clients' terms. We empower survivors as they transition to a life free of violence.
2SLGBTQIA+ Supports
LGBT Youth Line – Province wide
https://www.youthline.ca/
Youth Line offers confidential and non-judgemental peer support through telephone, text and chat services. Get in touch with a peer support volunteer from Sunday to Friday, 4:00PM to 9:30 PM.
Rainbow Health Ontario – Province wide
https://www.rainbowhealthontario.ca
Rainbow Health Ontario creates opportunities for the healthcare system to better serve LGBT2SQ communities.
The Canadian Centre For Gender+Sexual Diversity – National organisation
https://ccgsd-ccdgs.org
CCGSD envisions a world in which people can shape the decisions that impact their lives, enjoy freedoms, and navigate an equal world free of violence. CCGSD will be a national force and partner of choice within the movement to end discrimination.
Pflag canada – National organisation
https://pflagcanada.ca
Pflag Canada is proud to be Canada's only national organization that offers peer-to-peer support striving to help all Canadians with issues of sexual orientation, gender identity and gender expression. We support, educate and provide resources to anyone with questions or concerns. We promise to offer local, practical, and emotional peer-to-peer family support for individuals and their loved ones challenged by gender/sexual identity.
Trans Lifeline – National organisation
https://translifeline.org
Trans Lifeline provides trans peer support for our community that's been divested from police since day one. We're run by and for trans people.
Additional Resources
Please click here for a list of additional resources for the trans community and their family/support persons.
Suicidality and Suicide Loss

Ontario Association for Suicide Prevention – Province wide
http://www.suicidepreventionontario.ca
OASP is a provincial body that links communities, organizations and individuals in Ontario by supporting, advocating for and encouraging the development of suicide prevention, intervention and postvention activities.
Mental Health Commission of Canada – National organisation
https://www.mentalhealthcommission.ca/
Suicide is one of the top ten causes of death in Canada. It's a serious public health problem with lasting, harmful effects on individuals, families, and communities. Evidence has indicated that one of the most common risk factors for suicide is a diagnosis of a mental health problem or illness. Fortunately, programs and strategies are available that can make a difference.
Centralhealthline.ca – Toronto area
https://www.centralhealthline.ca/
Programs listed here help people who have survived a suicide attempt, or have experienced the suicide of a loved one.
Suicide Prevention Ottawa – Ottawa area
https://suicidepreventionottawa.ca/
Suicide Prevention Ottawa is a group of organizations working together in Ottawa to make services more effective at preventing suicide among children, youth and young adults.
International Association for Suicide Prevention
https://www.iasp.info/
The International Association for Suicide Prevention is dedicated to preventing suicide and suicidal behaviour and to alleviate its effects. IASP leads the global role in suicide prevention by strategically developing an effective forum that is proactive in creating strong collaborative partnerships and promoting evidence-based action in order to reduce the incidence of suicide and suicidal behaviour.
Supports for Seniors
Seniors: stay healthy and active – Province wide
https://www.ontario.ca/
Get information on programs and services to help seniors be healthy, active and engaged.
Seniors Active Living Centres – Province wide
https://www.ontario.ca/
Seniors Active Living Centres offer social, cultural, learning and recreational programs for seniors that promote health, well-being and social connections.
Canadian Coalition for Seniors' Mental Health – National organization
https://ccsmh.ca/
The CCSMH works to promote seniors' mental health by connecting people, ideas and resources.
Circle of Care – Toronto area
https://www.circleofcare.com/phone-pals/
It is common for older adults to feel isolated and lonely. The COVID-19 pandemic has only made this isolation worse. Through our Phone Pals program, our specially trained volunteers provide companionship and social contact to older adults through weekly phone calls.
Recognizing and Treating Depression in Older Adults – Online article
https://sixtyandme.com/aging/recognizing-treating-depression-older-adults/ 
Indigenous Supports
Health Care Options
https://www.ontario.ca/locations/health
Find the health care services you need, near you.
Mental Health Helpline
1-866-531-2600
www.mentalhealthhelpline.ca
Offers services and information for people experiencing mental health difficulties.
Za-geh-do-win Information Clearinghouse
1-800-699-2538
www.za-geh-do-win.com
One Indigenous agency will often be able to refer people to other agencies that offer mental health services if they do not offer them themselves.
Supports for Men & Fathers
HeadsUpGuys
https://headsupguys.org
HeadsUpGuys is a free service that provides tips, tools, information about professional services, and recovery stories to help men fight depression and prevent suicide. 
Canadian Men's Sheds Association
https://menssheds.ca
Where men can get together for free activities like woodworking projects, cooking, bike repairs, music, and yelling at the television during the playoffs. Many guys have time on their hands and tend to suffer from isolation, loneliness, and depression, especially after they retire and their careers were a big part of their identity. Men come together, stay productive, and contribute to the community—all of which are good for overall health. Join a Shed or start a Shed.
DadSourcing
https://dadsourcing.com
DadSourcing is an online community offering monthly paid subscriptions to a virtual assistant platform for Dads. You can delegate family, personal, or business tasks to your virtual assistant to free up your time, lower your stress, and focus on your health.
Canadian Centre for Men and Families – National organisation, office in Toronto
https://menandfamilies.org/familyshelter/
The Canadian Centre for Men & Families provides a broad range of programs: counselling, peer support, mindfulness meditation, legal assistance, fathering, employment consultation, discussion groups, lectures and mentorship. Programs are free unless stated otherwise. Everyone is welcome.
Supports for Women & Mothers
Canadian Women's Foundation
https://canadianwomen.org/
The Canadian Women's Foundation is a national leader in the movement for gender equality in Canada. Through funding, research, advocacy, and knowledge sharing, we work to achieve systemic change. We support women, girls, and gender-diverse people to move out of violence, out of poverty, and into confidence and leadership.

Criminal Injuries Compensation Board
http://www.cicb.gov.on.ca
Financial compensation for those who qualify under the Compensation for Victims of Crime Act – victims and family members of deceased victims of violent crimes committed in the Province of Ontario.
Neighbours, Friends & Families
www.neighboursfriendsandfamilies.ca
Neighbours, Friends and Families is a public education campaign to raise awareness of the signs of woman abuse so that those close to an at-risk woman or an abusive man can help. It engages the power of everyday relationships to help keep women and their children safe.
Disabled Women's Network Ontario
https://www.dawncanada.net
DisAbled Women's Network Ontario (DAWN) is a progressive, volunteer-driven, feminist organization promoting social justice, human rights and the advancement of equality rights through education, research, advocacy, coalition-building, resource development, and information technology.
Assaulted Women's Helpline
www.awhl.org
The Assaulted Women's Helpline offers a 24-hour telephone and TTY crisis line to all woman who have experienced abuse.
Ontario Association of Interval and Transitional Housing (OAITH)
www.oaith.ca
Providing opportunities to connect across the VAW, health, residential care, housing sectors.
The Canadian Network of Women's Shelters and Transition Houses
www.endvaw.ca
Shelters support women and children fleeing violence. The network supports these shelters.
The Clyde Mental Health and Addictions Awareness Project
Addictions and Mental Health Ontario (AMHO)
https://amho.ca/
Addictions and Mental Health Ontario (AMHO) represents nearly 200 addiction and mental health organizations across Ontario. Our members span the full continuum of addiction and mental health organizations and services, ranging from community-based service providers to peer support and consumer survivor groups, to Community Health Centres, harm reduction, and hospital-based services.
Brave
www.brave.coop
Brave's ecosystem of technology connects people with community supporters when they're alone and at risk of overdose. Anonymous and private, these tools can keep you safe(r) from overdose, wherever you are, whenever you need it.
Heartache2Hope
www.heartache2hope.com
Heartache2Hope provides healing support to adults who have experienced a suicide loss. We offer 12-week support groups, drop-in group meetings, individual support and community education.
Ontario Harm Reduction Network
www.ohrn.org
The Ontario Harm Reduction Network (OHRN) supports harm reduction efforts in Ontario by providing training, networking opportunities, and consultations to service providers and agencies. We bring together harm reduction workers from across the province through The Outreach Network. 
Thresholds Homes and Supports – Waterloo Region and Wellington County
https://www.thresholdssupports.ca/
At Thresholds Homes and Supports, we believe that a stable, permanent home is the first step towards mental wellness. We offer a range of mental health services, including ACTT, FACT, supportive housing, crisis respite, case management, and more.  We assist individuals in the communities of Kitchener-Waterloo, Cambridge, and Guelph-Wellington.
Bereaved Families of Ontario
https://bereavedfamilies.net/ 
For over 40 years Bereaved Families of Ontario has been supporting grievingOntarians and today it is more important than ever that we continue our work. BFO offers peer based support at no cost to those in need.
Breaking Free Online
https://www.breakingfreeonline.ca/ 
Confidential wellness and recovery support program for alcohol and drugs available for free to all Ontario residents.
HeadsUpGuys
https://headsupguys.org
HeadsUpGuys is a free service that provides tips, tools, information about professional services, and recovery stories to help men fight depression and prevent suicide.
The Waterloo Region Suicide Prevention Council
https://wrspc.ca
The Waterloo Region Suicide Prevention Council is a community-based non-profit aiming to increase awareness of and engagement in suicide prevention within our community to ultimately reduce suicide and its impact. We do so through education, training, and community engagement initiatives utilizing suicide prevention and positive life promotion messaging.
Disclaimer: Please note that the above links lead to resources outside of Distress and Crisis Ontario, and as such, we are not responsible for the content or accuracy of the information contained within them.